All Tree Works, Sunshine Coast
Professional tree felling, land clearing and earthmoving business- All Tree Works
All Tree Works is a owned and operated by the Grieve brothers Damien & Ashley. All Tree Works is a specialist tree felling, land clearing and earthmoving business based on the Sunshine Coast. We offer a complete professional service encompassing tree removal, land clearing, and earthmoving. We specialise in block clearing, bulk tree removal, property clean ups and sub division land clears. We have 20 years experience in the timber industry. We have the knowledge and equipment to handle all job requirements such as backyards, land clearing, road side clearing, logging and earthworks. All Tree Works also offers a complete timber & green waste processing service, and we are licensed in demolition and can remove buildings as part of our services. We are serious about what we do and are set up to complete jobs efficiently and safely. Our clients value dealing with one company, not several contractors, for this comprehensive range of services. So contact All Tree Works today on 0409 594 467 for a reliable, safe and competitive rates on all your tree felling, land clearing and earthmoving needs. Have an Enquiry?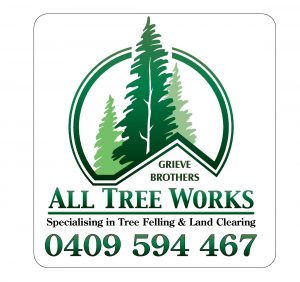 About All Tree Works
With All Tree Works your project is in expert hands
All Tree Works is a family owned and operated business located on the Sunshine Coast. All Tree Works is committed to providing the highest quality service and equipment for all applications of vegetation management and earthmoving. Since the beginning we have been implementing practical and cost-effective solutions to meet our customers' requirements. After more than 20 years in the business, our business has a vast knowledge and experience in tree felling, land clearing and earthmoving industries. At All Tree Works, our commitment is to maximise the amount of reusable waste for use of an environmentally friendly nature. We are constantly training our personnel with new machinery techniques, and to maintain our excellent health and safety record. Although we are based on the Sunshine Coast, we service clients right throughout Southeast Queensland as well as central Queensland and Northern Rivers N.S.W. We provide earthmoving, tree felling/removal and land clearing services for private landholders, major construction companies, shire councils and government.
Have an Enquiry?
At All Tree Works we like to think that our most valuable asset is our experience, not just our equipment.
1000 Hp Inline Grinder
400hp Tub Grinder
400hp 24 inch wood chipper
200hp 20 inch wood chipper
30 ton excavator x2
D65 Komatsu Dozer with stick rack and tree pusher
excavator attachments: mulcher, shears, vertical tree grab, log grab, ripper, buckets, hydraulic grapple with saw
8 ton excavator
5 ton excavator
Vermeer 372 stump grinder (40hp Diesel)
10 ton drott
30 metre spider cherry picker
30 metre wood chip truck
prime mover truck
quad axle low loader and dolly
50 metre semi-tipper for mulch removal
crane truck
various size skip bins for green waste removals
20 ton plant trailer
At All Tree Works, you'll receive:
Competitive rates on all your tree felling, land clearing and earthmoving needs
Work from professionals who are honest & hardworking
Dependable service that is completed on time and on budget
Safe work methods, specialist care in tree felling
Did you know...?

All tree works can supply a one stop shop for clearing trees, earthworks and demoliton.

Did you know...?

Diseased or dying trees can be hazardous to your home or property in the event of storms. Avoid a disaster by removing your hazardous trees now.